General Hospital spoilers hint Ava Jerome Cassadine (Maura West) and Sonny Corinthos (Maurice Benard) are about to grow a smidgen closer than they usually are — and it's going to drive Nina Reeves (Cynthia Watros) mad.
Nina knows Sonny always takes care of his children's mothers, but that doesn't mean it stings any less when she sees him doting on them.After all, she's never going to have that kind of relationship with Sonny, even though they are grandparents together.
She will never give birth to his child, and he will never see her in the same light that he does Ava, Carly Spencer (Laura Wright), or Olivia Quartermaine (Lisa LoCicero). So when Sonny is suddenly having secret meetings with Nina's bestie, it's not going to land well for her.
General Hospital Spoilers — Ava Jerome Cassadine Backpedaled At The Metro Court
When Ava and Nina both sat down with Sonny at the Metro Court, Nina was pulled away to attend to a work matter while Ava and Sonny chatted.
What could have been a benign conversation about their daughter, Avery Corinthos (Grace Scarola), actually turned far more serious as Sonny inquired about Ava's real feelings toward Nikolas Cassadine (Adam Huss).
Ava made it abundantly clear that she didn't expect to see Nik again, and she wanted to get Sonny to back off. So she took things a step further and clued him into Nik's threat against Avery.
That was all it took for Sonny to step up and show her just how much he is on her side and hates Nikolas. Still, it wasn't the right time to broach the topic with him when Nina was steps away, as was Austin Gatlin Holt (Roger Howarth).
GH Spoilers – Hint Suggest She'll Catch Up With Sonny Corinthos Later
Ava won't waste time getting back around to Sonny though. She knows he will help her out of this mess, and she needs someone to. She's actually hoping Austin will keep his distance, though that isn't likely if he actually knows that Mason (Nathanyael Grey) is who is holding Nikolas' barely there body hostage.
When Ava approaches Sonny on his own turf, he's going to know instantly that it's about Nikolas. If she comes clean and tells him everything, does that mean she'll include her accomplice, Austin?
General Hospital Spoilers — Nina Reeves Takes Note
It's too bad this can't be tied up in a neat bow with Sonny helping Ava out and both of them going their separate ways. Instead, Nina is going to find out about Ava's private chats with Sonny, and she's not going to take kindly to either of them trying to hide the context of their meetings from her.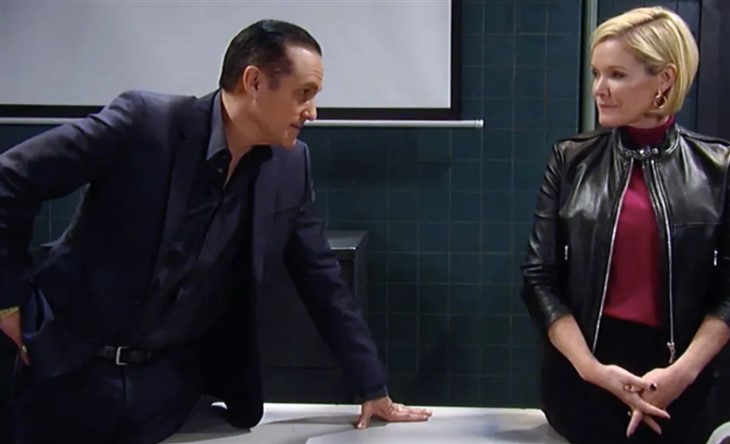 Ava won't want to clue her in for obvious reasons — she probably ᴋɪʟʟᴇᴅ her husband! Sonny wants to keep Nina safe and distanced from all things criminal, which is what she always said she wanted, too. But that was before Sonny's work got mixed up with her best friend. This isn't going to end well. Stay tuned for more GH news and spoilers just ahead.
General Hospital Spoilers Thursday, March 16: Spencer Fuming, Nina sʜᴏᴄᴋᴇᴅ, Liesl Regretful, Trina's Solution
General Hospital (GH) spoilers for Thursday, March 16, 2023, reveals Nina Reeves (Cynthia Watros) is in for a surprise. Harrison Chase (Josh Swickard) comes to someone's aid. Spencer Cassadine (Nicholas Chavez) isn't calming down. Trina Robison (Tabyana Ali) thinks she has a solution to a problem. Liesl Obrecht (Kathleen Gati) is kicking herself now. Alexis Davis (Nancy Lee Grahn) confronts Gregory Chase (Gregory Harrison).
General Hospital Spoilers – Thursday, March 16, 2023: Nina Reeves Is Put In Her Place
Nina will be reminded of her place in Willow Tait's (Katelyn MacMullen) life, and perhaps where she stands in Sonny Corinthos' (Maurice Benard), too. Is she ready to face that music?
GH Spoilers – Say Harrison Chase Offers Comfort
Chase is a good and reliable friend. When someone is suffering, he's there for them. Could it be that Gregory Chase (Gregory Harrison) is finally going to tell Chase the truth about his health issues, or does this have something to do with a certain lady friend, like Brook Lynn Quartermaine (Amanda Setton) or Sasha Gilmore Corbin (Sofia Mattson)?
GH Spoilers — Spencer Cassadine Is Furious
Despite Laura Collins' (Genie Francis) attempts to calm her grandson down, Spencer is only growing angrier with each passing hour. He can't seem to get a grip on the reality that he is not going to be taking custody of his baby brother, and he's not sure of any other way he can right the wrongs he feels he has committed. He's blaming himself for his failed relationship with his father, and that's only going to compound his feelings about Ace Cassadine. Elsewhere, Spencer is going to call Dex Heller (Evan Hofer) out. Is this about Josslyn 'Joss' Jacks (Eden McCoy)?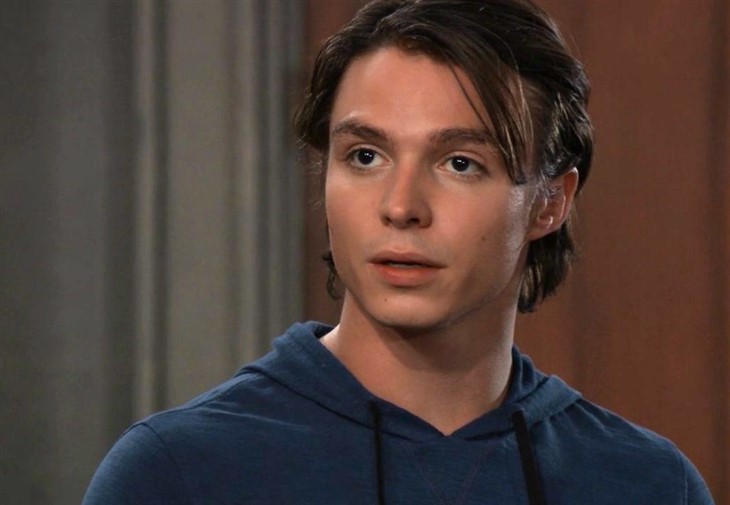 General Hospital Spoilers – Tease Robinson Trina Has A Plan
Trina thinks she knows the solution to a rather painful problem. Is she down for getting that paternity test, or does she think her family should move on never really knowing who her father is? Maybe this has nothing to do with her problem though. Perhaps her solution to that is to ignore it while she focuses on Spencer's issues. Could she have an alleged solution for him? It might sound like it when she sits down with Esme Prince (Avery Kristen Pohl).
GH Spoilers — Liesl Obrecht Is Regretful
Liesl is blaming herself for the way things have transpired. Will it turn out that she's not able to help Willow by donating her bone marrow? Does she regret getting everyone's hopes up?
General Hospital Spoilers — March 16 — Alexis Davis Puts Gregory Chase On The Spot
When Gregory starts slurring his words, Alexis is going to call him out on his apparent drunkenness. There is more to the story and she knows it, but is he ready for her to know everything?
Which storyline are you most looking forward to following on GH on Thursday, March 16th? Let us know, and keep checking back for more General Hospital news and spoilers.